Do black and white photos have a place in wedding submissions? It's a good question! But, it's not as easy as a yes or no answer. The truth: it varies from publication to publication.
You'll find that some wedding blogs will ask you to limit black and white photos when sending over a gallery while others will welcome them. Ruffled Blog, for example, asks submitters to keep black and white photos to a minimum. And Style Me Pretty's submission guidelines state that while they love color photos as they look best on the blog, they do still use black and white photos peppered in. Fab You Bliss also welcomes black and white images, but asks that you provide the color version of them as well when submitting.
So, it's important to always check the blog or magazine's submission guidelines first before sending your selection of favorites over for consideration. This is one of the reasons why I like to cull a submission set of photos for each blog or magazine I submit to. But, that's a post for another day!
Pin This Post For Later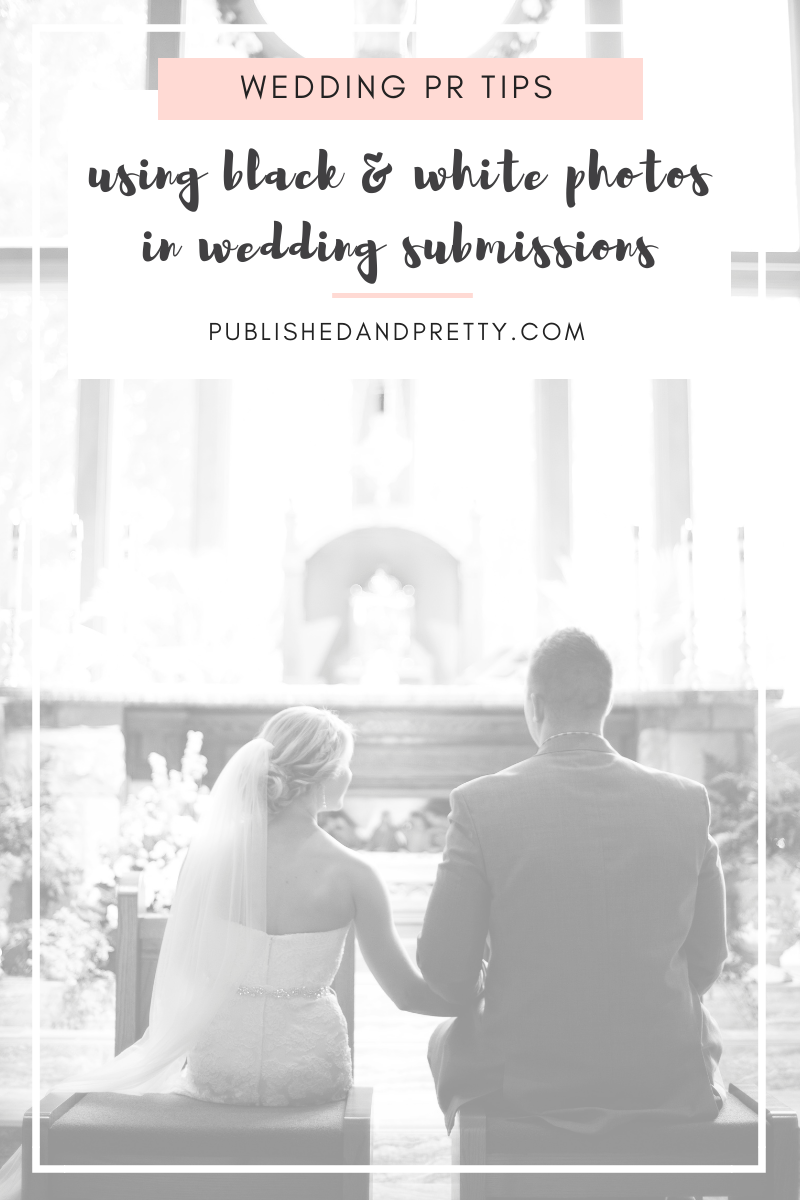 If you're planning to include some black and white photos in your wedding submission, here are some tips and tricks:
Tips For Including Black and White Photos In Your Wedding Submission
I think Fab You Bliss hit the nail on the head! When possible, I always like to include the color version of the black and white photo I chose just in case the publication would like to have both options. If you're a wedding planner or another vendor submitting the wedding and only have access to what the photographer sent you, try to find a similar color photo of the same moment or detail that you can include along with the black and white photo you chose.
Use black and white photos when lighting isn't in your favor. Sometimes black and white photos can save a shot that just isn't quite right because of lighting, like a dim ballroom or church ceremony.
Help tune out the "color noise" in a particular setting. Sometimes, it can be hard working with church ceremonies or ballroom receptions because of the brightly colored carpet or wallpaper. I find that using black and white images here can save a submission from not being featured.
Use black and white images to highlight a sentimental moment or detail. There's something romantic about a black and white image. When scrolling through a wedding feature, a black and white photo really makes me stop and look. Use them sparingly so that they can create that "stop and look" moment to reflect on something extra special.
Looking for more wedding PR tips? Find all you need to know on the submission process + exactly how to submit to 40+ wedding blogs and magazines in my Getting Published Guide! Plus, get 50% off now through the end of November!