Happy Halloween! I'm all about treats (rather than tricks) at Published + Pretty. And, I thought that spooky season was the perfect time to share a fun wedding PR treat. Here are four common mistakes business owners make throughout the wedding and editorial submission process.
Pin This Post For Later!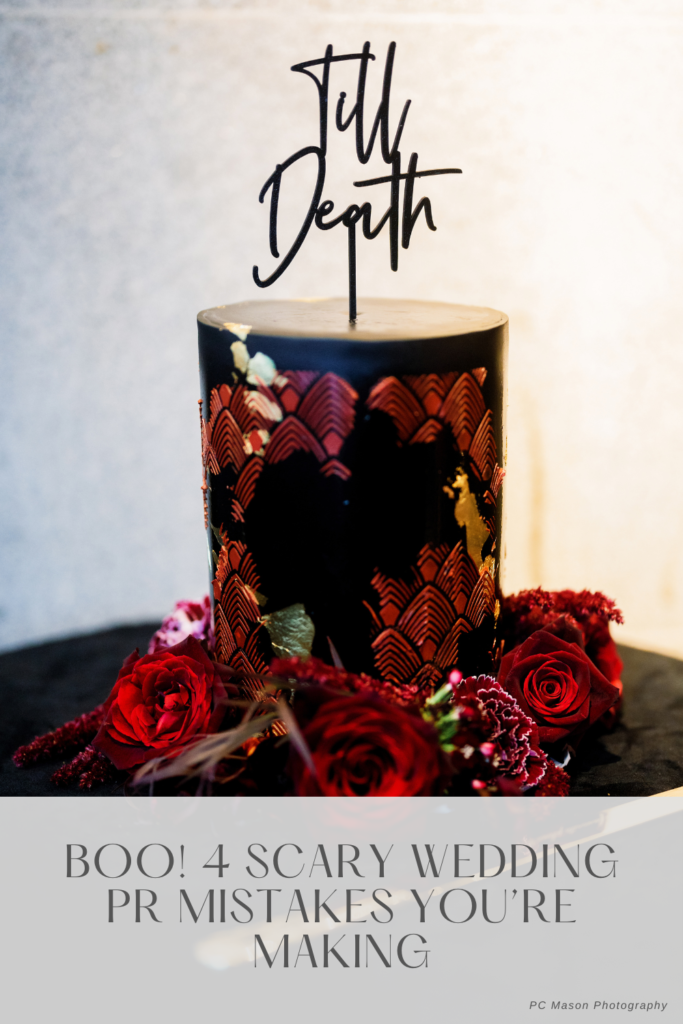 4 Scary Wedding PR Mistakes
Not having a plan for wedding submissions. Published + Pretty (formerly Something New for I Do) was one of the first wedding PR companies to completely take over styled shoot and wedding submissions for wedding photographers and planners. So, I know how busy you are how hard it is to find time to submit your work yourself. That said, this isn't something you can let sit on the back burner for long. Why? Having your weddings featured will make your recent couples fall even more in love with you, singing your praises for all to hear. It's also a great way to find new clients. Wedding PR is FREE advertising! So, find the time to submit at least one real wedding or styled shoot per quarter to keep your business looking newsworthy and new clients rolling in.
Being too gimmicky with styled shoots. Oh, the horror (teasing)! I won't give specific examples, but I have some styled shoots in mind that probably felt more like a costume party than a wedding. I know you want to be creative and stand out in what feels like such a saturated industry. But, it's important to also be practical and inspire your target client while being true to your brand. I'll leave it at that!
Not promoting your features on social media. Sharing your wedding PR features on social media is a great way to draw attention to your brand. And, drive traffic to the website where the wedding or shoot was picked up so potential clients can see more than just the couple of photos you posted on Instagram. Also, sharing the post on social media acts as a thank you to the editor. Seriously, they really do appreciate it more than you know. The more views, the better (for both you and the blog or magazine). So, share away!
Not adding the feature to your press page. Do you have a press page? If not, now is the time to add one to your website. Or at least a dedicated place on another page where your press features can live. It doesn't have to be fancy! Sharing on social media is very important, but those social media posts only stay at the top of your feed for so long. Adding your wedding public relations features to a press page ensures they live forever – zombie style!
Are you making these wedding PR mistakes? Contact me to find out how you can create a wedding and styled shoot submission plan that lands you your dream clients. Need a resource to help you pull it off yourself? Head here to check out my getting published guide and other resources.
SaveSave